Flight Global reporting
A startup company in Southern California which hopes to revolutionize the daily commute will launch service in the coming days and plans to offer full air-based commuting schedules from up to 40 regional airports beginning in January.

FLOAT – which stands for "Fly Over All Traffic" – will offer air taxi services to what it calls "supercommuters" in the region. The company plans to operate a fleet of nine Cessna Caravans to what it calls "underused" regional and general aviation airports across the Los Angeles and San Diego areas, renowned for their ground-based traffic problems.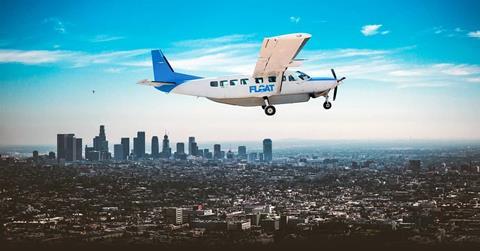 The company says it has agreements with almost 40 airports, including Hollywood Burbank Airport, John Wayne Airport in Santa Ana and Palm Springs Airport. It is partnering with Pompano Beach, Florida-based operator Southern Airways Express for its planes and crews.
FLOAT executives say its target customer is a commuter who drives 50 miles or more in each direction, which, depending on the time of day and the traffic flow, can take more than two hours on the region's congested highways.

"FLOAT is shattering the myth that sitting in hours of traffic every day is a necessary and unavoidable way of life in Southern California," FLOAT co-founder and chief executive Arnel Guiang says. "We live in a rapidly-evolving society of intense time management and instant gratification, and business professionals and their superiors are quickly realizing that spending hours in traffic is cutting into their productivity and work/life balance."

The company says pricing and routes will vary, but it estimates the cost of a one-way flight could be as low as $30. It is offering monthly subscription packages on selected routes for $1,250, which encompasses roundtrip service five days a week.